The Grove House Curriculum
Grove House uses the International Primary Curriculum (IPC) for the teaching and learning of the foundation curriculum from Years 1 to 6. IPC is up to date, comprehensive, and future-oriented. The IPC units take an inquiry-based, thematic approach, which encourages the learning of subjects through a central idea. This provides excellent opportunities for pupils to make meaningful connections and form new knowledge with deep understanding.  It also develops international mindedness and encourages personal learning. If you want to know more about IPC, click here.
As well as IPC, we follow SCARF to deliver a sequenced approach to PSHCE and Discovery RE for the teaching and learning of RE. Both these resources allow teachers to put the emphasis on speaking and listening for understanding, building strong values for the future.
Specialist sports coaches from Sports UK work alongside our class teachers to deliver excellent provision in PE and support our children through inter-school sporting competitions.
If you have any questions regarding the curriculum your child receives at Grove House – please speak to your child class teacher.
How is our curriculum implemented?
Each year group follows a long term curriculum plan, with carefully mapped out units of learning, designed by the teachers themselves. You can find more information about these plans in the Classes page of the website. Each unit follows the learning cycle (see illustration) by starting with an Entry Point – an exciting and memorable event that launches the unit.  The knowledge harvest in IPC gives the teachers a good idea of what they children know and what they want to find out.  The Big Picture gives the children a good idea of what they will be learning during the unit of work. The unit then finishes with an Exit Point which, in most cases, is an opportunity for the children to show their parents what they have learnt.  On other occasions, the Exit Point could be a visit or visitor. Where possible, we link in other subjects to help make connections in learning.
Long Term Plans
Nursery,   Reception,   Year 1,   Year 2,   Year 3,   Year 4,   Year 5,   Year 6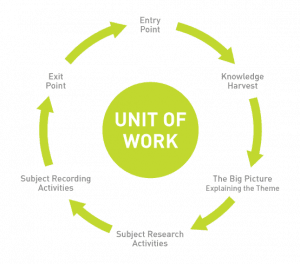 What else makes the Grove House Curriculum special?
IPC is just one layer of our curriculum offer. We believe in giving our pupils experiences in which they can emotionally attach with. With the right balance of emotion and experience, learning is then firmly committed to the long term memory. Around this concept, we have built '101 Things to do Before you Leave Grove House.' This learning passport gives children a layer of additional experiences each academic year, above and beyond their learning in the classroom. Some experiences are completed through units of work or facilitated by the adults in school, whereas others are completed at home with families. By the time pupils leave us at the end of year 6 they are achieving well and also have range of experiences that support their future learning and aspirations.
How do we develop our pupils' attitudes?
We work with our pupils to develop positive attitudes and raise their aspirations. We focus on the development of several characteristics modelling these and helping pupils understand what they feel like. These characteristics are unique to our curriculum and have been thoughtfully selected by both our teachers and pupils, allowing them to take ownership of their learning and their future.
Grove House Primary School  has many duties, including their duty of care to their pupils, and their duty to deliver key areas of the curriculum such as religious education or sex and relationship education.