Clubs
Breakfast Club
Our breakfast club runs from 7.45am – 8.45am each morning and costs just £1
If you would like your child to come to breakfast club, please click here to book a place.
You are welcome to pay for each session daily or the cost of the session will be added to your Parent Pay account. Even if your child decides not to have breakfast with us, you must still pay for the session.
Breakfast club provides a happy and healthy start to the school day. Choose from our healthy Breakfast Menu and join in with a range of indoor and outdoor activities and fun. Breakfast menu includes: a range of cereals, hot toast and spreads, crumpets, pancakes and juice.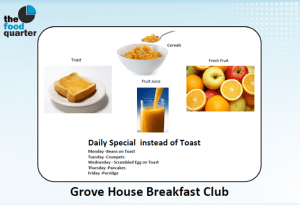 At the end of breakfast club, children will be escorted to class ready to start a day of learning.
After School Club
Our families have access to St Francis' After School Club at £7.00 per session. The children are collected safely from Grove House and escorted to St Francis school
Please click here for further details
We run a range of after school clubs each day in partnership with our Sports UK coach and Mr Hussain.
Details of our sports clubs can be found below:
Day
Club
Places Available
Cost
Monday
Football
Year 1 & 2
Full
No Charge
Tuesday
Multisports
Y3 & Y4
Full
No Charge
Wednesday
Thursday
Cricket
Y 5
YES
No Charge
Friday
Rounders
Y6
YES
No Charge
If you would like your child to join an after school club or would like some further information, please contact Mrs Taylor in the school office.
Every Thursday we have escape2sports  company who run a Thursday afterschool football club from 4:00pm – 5:30pm £12.00 for a block of 4 sessions – click here for further details