Attendance
Good attendance at school is important for your child's education and establishes a positive working ethos early in life.
What does good attendance bring?
A brilliant education and great attitudes towards learning!
Each week the class with the highest attendance holds the attendance trophy and their teacher gets to have their cup of tea in the attendance mug!
Each half term 100% attendance gets you a place at the half termly Attendance Treat and one of our special attendance badges.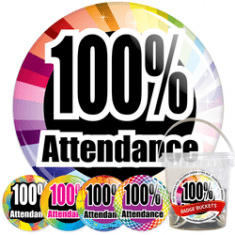 Every second of every minute of every hour of every day counts!

NO FAMILY HOLIDAYS OR EXTENDED LEAVE DURING TERM TIME.
Please click here for the Bradford Council  Warning and Penalty Notices
You can find our Attendance Policy  right here, which includes the guidelines outlined for taking holidays during term time. As from 1st September 2013 the law has been changed by the Education Pupils Registration Regulation.
Grove House Primary School will no longer authorise holidays or extended leave during school term time. Please take a moment to read our attendance policy carefully. See the Holiday Schedule for dates and only book your holidays in this time. Failure to do so will lead to a fixed penalty notice and may result in your child losing their place in school.