Resourced Provision
A unique feature of Grove House Primary School is that we offer a specialist Resourced Provision for pupils with a visual impairment. Our Local Authority Led Resourced Provision supports pupils across the whole school. In this specialist team, we have qualified teachers of the visually impaired (QTVI), a curriculum Resource officer and vision impaired specialist support assistants (VISSA). They are trained in a range of skills including braille and braille reading, supporting tactile learning as well being able to use specialist equipment to modify resources so that all learners can access the curriculum.
For most of the school day, pupils with a visual impairment work alongside their peers in class. The children also have an additional curriculum to ensure they have the opportunity and time to develop skills to become an independent learner and maintain good self-esteem as a vision-impaired person. This additional curriculum includes pre-braille, braille, specialist technology, Independent Living Skills, Social Skills, mobility and the children also take part in Go4it trips that provide opportunities for new experiences and challenges outside of the classroom.
Our Aims for Every Child
To enable them to reach their full potential, in all areas of their life.
To encourage them to become independent learners, and to encourage independence in all aspects of life.
To develop and support their aspirations.
To prepare for adulthood and employment.
To provide full access to the school curriculum.
To provide a high standard of resources and support, as appropriate.
To have proactive approach to inclusion for all.
CYP SEND Outcomes
I am loved and cared for by those around me and supported if and when I need it.
I feel supported and safe.
I am confident and able to achieve my dreams.
I am valued and accepted in society.
My voice is heard and I am able to live my life to the fullest.
I try to remain positive and stay healthy.
Contact Us
Mr Andrew Greenwood: a.greenwood@ghps.paymat.org
Braille
Devised over 200 years ago, Braille is a specially devised code of raised dots which can be read through touch by those pupils who have very little or no sight.
Pre-Braille: Before learning Braille, children are encouraged to use touch and other senses to gain as much information as possible. They are involved in activities aimed at encouraging refined tactile discrimination as well as developing finger strength and dexterity. Tracking activities are also used to help pupils develop finger control and understand that Braille is recorded from left to right.
Uncontracted Braille: All children will learn uncontracted Braille which means they will learn to read and record each Braille letter of the alphabet and punctuation. They will also learn Braille numbers and symbols for the four mathematical operations.
Contracted Braille: Some children may then learn contracted Braille which involves learning new elements of the Braille code including word signs and contractions for groups of letters.
Learning Braille can be very difficult for some children and so we try to make Braille sessions as fun as possible! If you would like to learn the Braille alphabet then you can download the Clearvision 'Crack the Code' booklet.

The Braille Alphabet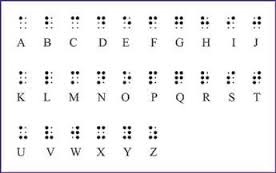 Tactile Learning 
A vital part of a blind child's learning is the ability to understand, interpret or 'read' tactile materials. These may include tactile pictures in different formats, diagrams, graphs and maps. In order for children to learn the skills needed to make sense of these images, they need a wide range of tactile experiences from a young age.
Activities like sand and water play, playing with pots and pans and making buns are all useful tactile learning experiences. To help make sure that all the children have the best possible chance of making good use of tactile learning materials we use a structured skills checklist. Activities can often be taught within normal class time but will also take place in 'catch up' times out of the classroom.
As children move through the school, they will be expected to learn how to 'read' a variety of tactile charts, diagrams and graphs. We teach them the skills to do this so that they are able to manage tests and assessments and be prepared for Secondary School.
Specialist Equipment 
Being able to record and access work on a computer or tablet is an essential skill for learners in a world where technology is part of everyday life. The pupils from the Resourced Provision receive additional sessions to develop areas such keyboard navigation, touch-typing and voice over so that they can be confident at using a range of tablets and computers.
Some pupils may also require training in using specialist technology such as electronic braille note-takers, speaking calculators and clocks.
For large print users there is a variety of equipment which can help children to access books, the Interactive Whiteboard and Video clips. This includes using the iPad to connect to the Whiteboard, using the iPad to access books, using a magnifying device to access books and also using hand held magnifiers.
The Resourced Provision team are responsible for teaching the children how to use the appropriate specialist technology and equipment so that they can have choices about how they record work, read books and other texts.
Independent Living Skills 
Being as independent as possible is one of the key aims of the work we do in the Resourced Provision, allowing children of all ages to take responsibility for some of their daily routines that other sighted pupils may take for granted. Modules aimed at developing personal hygiene, dressing and looking after belongings develop self-esteem and self-organisation. Other modules involving food preparation help to develop essential living skills.
Mobility
Each pupil has a specifically designed mobility programme which is delivered and monitored by our qualified habilitation officer. All children are taught body protection methods and some children receive training in the use of long and shortened cane technique when appropriate. The children have regular sessions, learning to navigate small familiar areas before widening to the whole school area. The QTVI and specialist support assistants reinforce these skills around school.