Reading
Ensuring all children are able to read and enjoy reading is one of the key drivers of our curriculum. At Grove House, we understand that reading underpins everything we do. We want all our children to have a love of reading – enjoying a range of authors, genres and text types. We have a school library with a fantastic range of fiction, non-fiction and poetry books to borrow. Each child has weekly library slots to choose books to take home and enjoy with their family.
In Early Years, the focus is on learning to read through decoding. In Nursery, this involves developing good listening skills and being able to hear different sounds. In Reception, this involves learning the sounds the letters make and learning how to segment and blend the sounds into words. 
A focus throughout Early Years is ensuring all children are exposed to lots of different books. Our children in Nursery and Reception have daily story times as well as, daily singing and rhyme times. All these sessions give the children the opportunity to expand their vocabulary and understanding.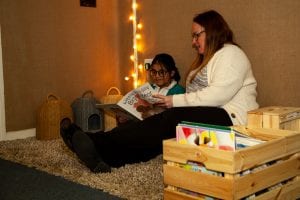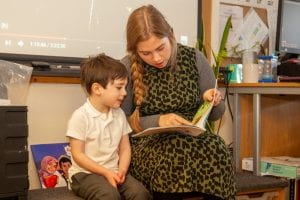 In Reception and Year 1 the children have daily phonics sessions. In year 2 the phonics lessons continue with a stronger focus on the application of spelling rules to writing. We take a bespoke approach to phonics. The approach is systematic, with daily 20 minute sessions following the revisit, teach, practice and apply routine. We use the Read Write Inc flash cards as well as the red and green word cards, to ensure consistency across classes. The sound order is displayed below: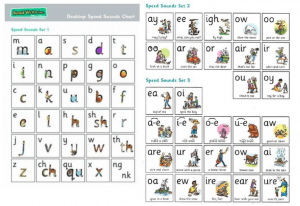 At the end of Year 2 and into Key Stage Two, we follow a novel study approach to reading. All the children in the class have daily Novel Study sessions. Each child is reading the same book and has their own copy of it. Each lesson starts with a discussion, then the teacher or children reading aloud sections of the text. This models how to read with fluency and expression. After an introduction to the section of text on Monday, the children then work through a range of questions types on Tuesday to Thursday. They will learn the skills or how to answer vocabulary, retrieval and inference questions. 
Reading at home:
In Early Years and Key Stage One, your child will bring home a banded book and a library book. In Key Stage Two, your child will bring home an Accelerated Reading book and a library book. The banded books or Accelerated Reader books will match your child's reading ability. These books can be read over and over again to build your child's fluency. You might start by reading to them and as the week progresses, they read sessions to you. The library book is for you to enjoy as a family. Your child may not be able to read it, but you can read it to them. Both these books will be changed weekly.
Resources to use at home:
We play lots of phonics games in school to help us learn and remember the sounds. Phonics Play has a great selection of free games which you can play at home. www.phonicsplay.co.uk
Throughout school, we use books from Oxford Reading Tree. Oxford Reading Tree E-books are a great way sharing a love of reading with your child and the best part is that they are total FREE!! Click on the picture below to access a number of e-books. Each e-book comes with activities that you can do together which will help you know if your child has understood what they have read.
Storynory.com has a resource bank of audio stories for you to enjoy with your children and family. They release a free audio story every week and have everything from Little Red Riding Hood to Prince Bertie the Frog!